Casa sus Baux
From Andrew Gronosky's Ars Magica Site
The magi's covenant is a manor house called Casa sus Baux. "Baux" means cliffs in Occitan, and as the name suggests, the house stands atop a seaside cliff with a magnificent view of the calanque and the sea.
Martin the Reeve refers to it as a "mad house" which does not do much to improve its occupants reputation.
Location and Surroundings
The manor house stands on the edge of the Calanque d'En-Vau, on the coast of the county of Provence. The covenant is in the Provençal Tribunal.
Here is our Google Map.
A steep, rocky trail leads a short distance (less than a half mile) to the the hamlet of Hameau de Baux, which is part of the manor. The manor is connected only by a single road to the coastal village of Cassis, which the covenant also owns, and which stands about 3 miles east of the covenant. From there it is another 13 miles to Marseille heading northwest over the Massif des Calanques.
The fishing village of La Coita is about 8 miles to the southeast. It is a fief of the Count of Provence.
House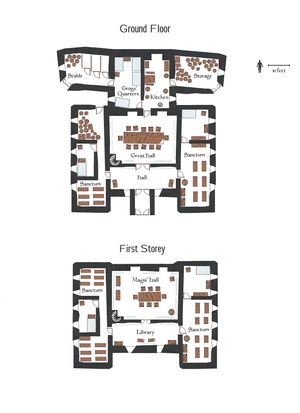 The manor house is slightly decrepit, with parts of seemingly ready to crumble into the sea. There is just enough space for the for magi and their
grogs
and
covenfolk
.
Resources
The manor's land extends about one league in all directions and is surrounded either by sea or wastelands. The surrounding wasteland is beautiful but inhospitable and supports little more than rabbits, foxes, and goats. The estate has been managed by the Clermont Family as long as memory serves. The current steward and butler is Pierre de Clermont who has accepted his new lord and master, and has allowed the house to be renovated to meet his new master's strange needs.
Aura
The manor house is surrounded by a magic aura of +3.
Library
Finances
We are not tracking expenses closely in this Saga. The manor has enough income from its fishing villages to sustain the manor's basic operation. In 1231, Duran cast Touch of Midas to produce a massive amount of gold (about three and a half gold bricks), which he then divided among the magi so they could equip their labs and make other expenditures.
Vis Sources and Stores
None.
Mundane Affairs
Despite its name the manor does not belong to the Baux Family of Marseille but to the Merlon Family and was inherited by Duran de Merlon on condition that he allow his Gifted kin to live with him. The covenant is on allodial land so it owes no allegiances to the surrounding nobles.